There is a way, to 'truly' experience the island. You can choose. Have a fantastic time driving one of our off-road vehicles! On this tour, Rhodes Adventures will take you to places you would never be able to see otherwise. You will be given an unusual and intimate look at the many facets this island has to offer. This extraordinary journey begins each morning from your hotel, and is finishing in your heart.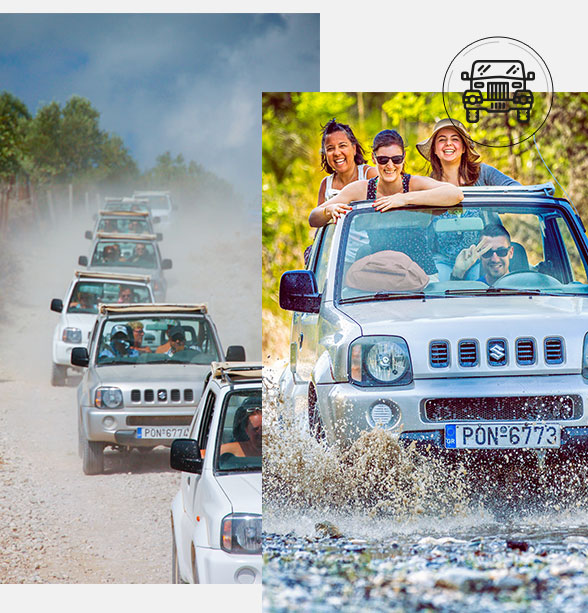 Prices for North Safari Self drive
Adults: 70 euros
Children: 50 euros (children between 4-12)
Price includes VAT 24%, cars (Suzuki Jimny), pick up from the hotel ( West from Rhodes Town to Fanes, East from Rhodes Town to Kolimbia), gasoline, insurance, public liability and professional staff.
In case of pick up from Archangelos and further South, the South Tour applies.
Prices for South Safari Self driving
Adults & Children: 80 euros (Minimum age 4 years old)
Price includes VAT 24%, cars (Suzuki Jimny), pick up from the hotel, gasoline, insurance, public liability and professional staff.
Insurance Policy
In case of a self-driving jeep safari the driver will sign a rent a car contract. On this contract there will the amount of 650 euros filled in at own risk. The customer will be charged a maximum of 650€, according to the damage, in case of an accident, only if it is his/her fault. This will be explained in the morning to every driver and every driver has to sign the contract. Also every customer is asked to sign a form which says the customer is at good health and joins the safari at own risk. Besides the regular car insurance, we also have Public Liability.
Self driving Jeep Safari
On this tour we use Suzuki Jimnys which the customers are allowed to drive themselves. Customers who would like to drive have to have their driving license for at least 2 years and need to be at least 23 years old. You have to have your license with you. Minimum number of guests is around 8 persons..
Program North Safari Self drive
Safari begins at a predetermined location near the village of Theologos. Here we introduce ourselves and outline the days program. Once everyone is set, we head out for the safari. We will drive through the mountains, pass small villages, go through a riverbed, enjoy nature and have a lot of fun.

  Start by being picked up at your hotel and drive through beautiful nature, fun off-roads and traditional villages to the Seven Springs. Walk the famous tiny tunnel, explore the springs and enjoy your coffee. Make the second scheduled stop in Archipoli for some food tastings. Taste a variety of different local products including various honeys, souma, olive oil, local sweets, and fresh seasonal fruits. The third stop will be at a private beach for a barbecue lunch and a dip in the Aegean Sea (lunch is optional for 12€ per person).
South Safari
Enjoy the fhe first route of one and half hours driving with a beautiful aerial view over Gadouras Lake. After passing through the fruit gardens of Massari / Malona explore the Seven Springs. Walk the tiny tunnel and have a refreshment. Next stop in Archipoli for local products tasting like honey, souma, olive oil, sweets and seasonal fruits. Next continue over the top of Mount Profitis Ilias to arrive in the village of Apollona for a traditional Greek Meze style lunch with the view looking out over Attavyros Mountain. Lunch is optional and costs 12€ per person. Continuing on and off-road, drive to Gadouras Dam and have a panoramic view overseeing the lake where lots of photographs can be taken. This is the last stop before heading back to the hotels.
is the maximum altitude someone can reach on Rhodes Adventures Safari!
---
Km is the max distance of our safari tour on Rhodes!
---
---
Book Now
Jeep Safari - Drive your Self!
Which side of the island are you?